2020 Hyundai Sonata Beats 2020 Toyota Camry in Matthews NC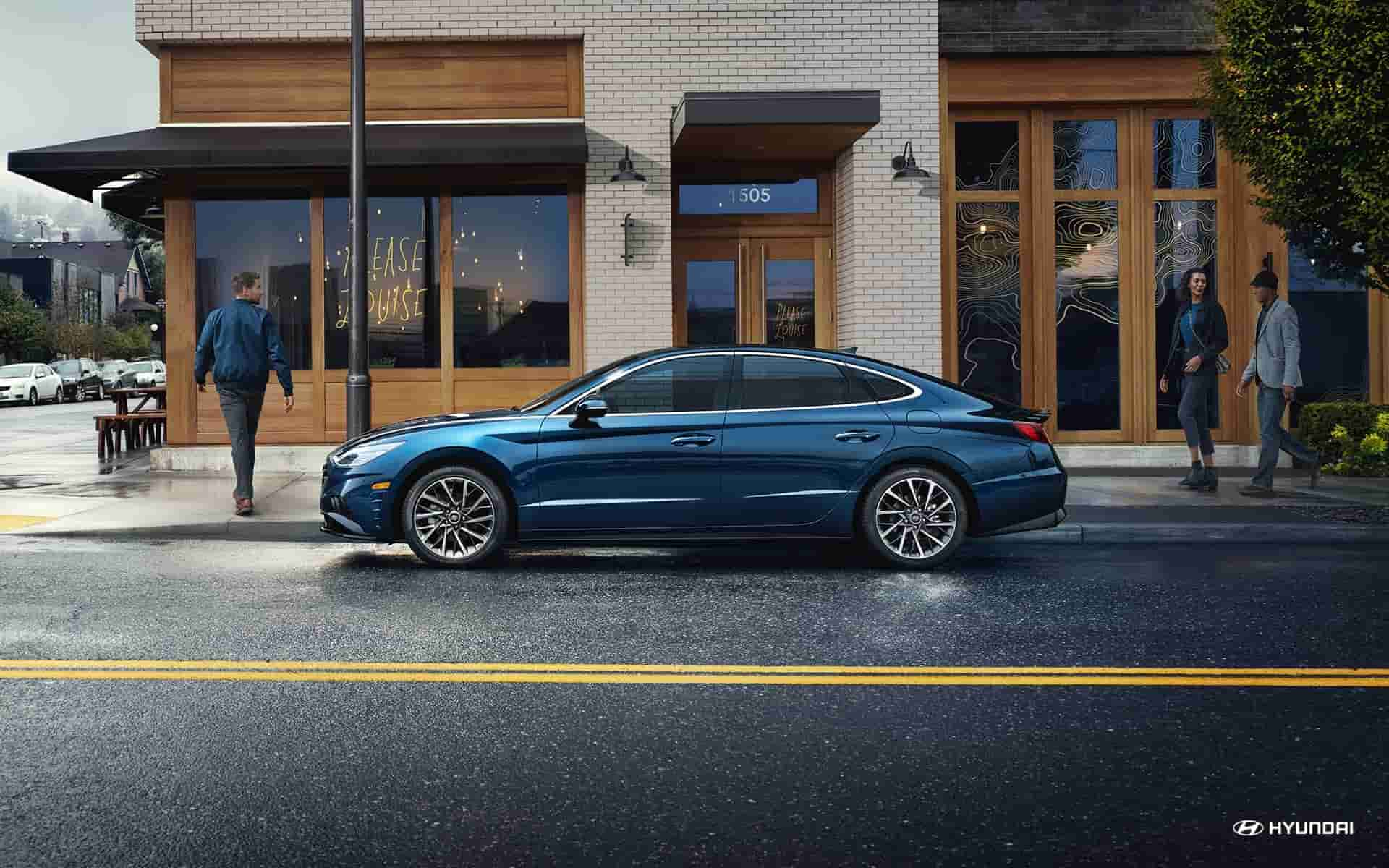 Keffer Hyundai - 2020 Hyundai Sonata Beats 2020 Toyota Camry in Matthews NC
The Sonata has always been somewhat of a masterpiece for Hyundai, but the 2020 Sonata is really something special. Even in a decade when mid-size vehicles are meeting fierce competition, the Sonata manages to look like a calm, cool, and collected winner among the pack. This year's Sonata gets a revamped styling that will be legendary for years to come.
LED Daytime Running Lights and LED headlights are standard on all trims of the Sonata, and that's an illuminating insight into the model's direction in 2020. With a more sophisticated and sculpted headlight and taillight design, the Sonata's eyes really bring it a new spirit this year. And that spirit is all about style (and substance).
The new design features a heap of chrome styling as well. Standard on all three trims is Chrome window surround moldings and Glossy chrome window trim. The top two trims even get a gloss black front grille that brings a tinge of "blacked out" and customized look to the Sonata's normally reserved and quiet exterior.
Your SEL, SEL Plus, and Limited trims get Sport bumper fascia with a beautiful twin tip exhaust for a level of sportiness never before seen on a Sonata model. Hyundai decided to really ramp things up this year on their design of the typically reserved model in their sedan lineup, and the results have been a staggering success for the brand.
If you buy a 2020 Sonata, you're going to be one of those rare few people who drive a car that everyone else is jealous of. People really take a second glance at the Sonata because of its chrome and sportier stance this year. You'll also find that the exterior redesign nets you more passenger and cargo capacity on the interior, creating an all-around "no lose" situation when you opt for a Sonata over a Camry this year.
We haven't mentioned the Camry until now because really, why do we need to? The Camry's reputation precedes itself, but this year it's no match for the Hyundai Sonata. It's rare that anyone in the automotive world can say that the Sonata definitively defeats the Camry on just about every buying point, but this is a brand new era for the Sonata. It is going head to head with the Camry in our comparison, and it's going to win this time.
The dealership here is serving Matthews with a wide array of feature highlights from the Sonata's 2020 resume, and then we're going to let you know how you can grab this one this year. You'll learn a little about the Camry, too, but mostly what you're going to learn is that the Sonata is better.
Request more information on the 2020 Hyundai Sonata